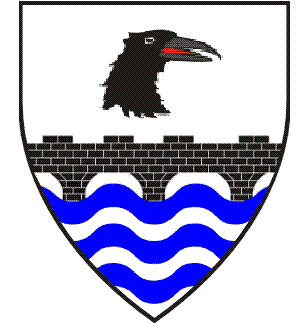 Site Navigation
Main Page
Branch Officers
Branch Newsletters
Event Calendar
Photo Gallery
SCA Humor
Links of Interest
Website Updates
---
Research Material
What is the SCA?
Choosing an SCA Name
Medieval Names Archive
Persona Development Questions
The SCA on a Budget
Your Teenager and the SCA
---
View My Guestbook
Sign My Guestbook
Crown Inscriptions
Inside the Royal crowns of Caid are inscribed the words, You rule because they believe". What a fitting sentiment! Now, one wonders, what might be fitting for the inscriptions inside the crowns from the other SCA kingdoms and principalities?

Any Kingdom: "I fought in Crown Tourney, and all I got was this stupid crown!"
Any Kingdom: "Next time, fall down!"
Kingdom of the West: "Today, the West, tomorrow the Known World!"
Principalty of Avacal: "I never wanted to be a Prince(ss). I wanted to be a lumberjack!"
Kingdom of An Tir: "This is your crown. It's worn on your head. Pointy ends up. Take your helm off, first."
Kingdom of Ansteorra: "Y'all rule nicely, now!"
Midrealm: "At least I get to go to Pensic."
Kingdom of the East: "The King's word is a fine damn suggestion!"
Kingdom of Atlantia: "At least we keep Trimaris from smashing into Eastrealm."
Kingdom of Ealdormere: "BOD? What BOD?" (Ealdormere is the first fully Canadian Kingdom; the BOD's rulings have very little "force-in-law"
Kingdom of Drachenwald: "Ich bin eine Berliner."
Kingdom of Atenveldt: "The SUN is NOT your friend, and DON'T drink the water."
Kingdom of Atenveldt: "Stay in the shade or they'll melt."
Kimgdom of Trimaris: "Equipped with a flotation device in case of swamp landing."
Kingdom of Drachenwald: "Don't let the REAL monarchs know!" (In 5 differant languages)
Kingdom of An Tir: "Vacancy. Inquire within."
Principality of Lachac: "Court first-Sheep later."
Principality of the Mists: "Flip switch at read to activate fog lights."
Kingdom of Atlantia: "If found, return to Michael of Bedford." (Michael of Bedford was the first King of Atlantia and has reigned seven times.)
Kingdom of An Tir: "On load from Sir Barak."
Kingdom of the East: "COFFEE FIRST"
If the Rivers Region in An Tir becomes a Principality: "All Wet"
And of course.....
Principality of Tir Righ: "Take off, eh?"